Join our Daily Board Blessing event! Complete daily quests for a chance to win Razer gaming gear!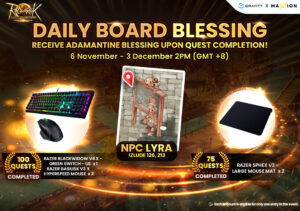 Not only will you receive the Adamantine Blessing upon completing daily quests, but during this event, every adventurer also has a chance to win some fantastic gaming gear by completing a specified number of daily quests.
Prizes for completing 100 quests:
– 2x Razer Basilisk V3 X HyperSpeed Mouse
– 1x Razer BlackWidow V4 X – Green Switch – US
Prizes for completing 75 quests:
– 2x Razer Sphex V3 – Large Mouse Mat
Event period 6 November 2PM – 3 December 2PM (GMT+8)
Seize your opportunity to enjoy Ragnarok Landverse and win amazing rewards!
Terms & Conditions
• By participating in this event, you hereby agree to all terms outlined below.
• Participants or hereby referred to as "players" or "citizens" agree for consent to the organizing company to establish contact for any marketing related purposes.
• The event will be held from 6 November 2PM – 3 December 2PM (GMT+8) with a possible extension of timeline due to unforeseen circumstances.
• Physical prizes will only be mailed out to winners after the event ends.
• Mechanics of the campaign are subjected to change, upon the decision of the organizer.
• This event is not open to staff and relatives under current employment with MAXION Pte Ltd or GRAVITY.
• The organizing committee may make any changes to the above terms and conditions without prior notice.
• All decisions made by the organizing committee are final and binding.
---
🔔 Stay updated with our latest news, updates, and events at:
– Facebook: Ragnarok Online Landverse
– Discord: Ragnarok Landverse
– Twitter: ROLandverse
– Facebook Group: Ragnarok Landverse: Official Community
– Official News: Landverse News