Freya Grand Prix Event!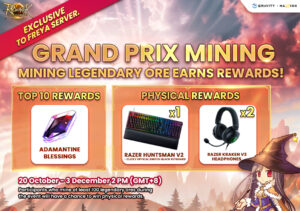 👸🏼⛏️Freya's Grand Prix Mining Now Showcases Razer Goodies – Dive In aim for the top of the Scoreboard to win Adamantine Blessings and Razer gaming gear.
By successfully mining at least 100 legendary ores during the event, you'll have the opportunity to win physical rewards. Aim even higher and be within the top 10 to secure more Adamantine Blessings by the event's end!
In-game Rewards 
– Rank 1: 300 Adamantine Blessings
– Rank 2-3: 200 Adamantine Blessings each
– Rank 4-5: 150 Adamantine Blessings each
– Rank 6-10: 100 Adamantine Blessings each
Physical Rewards
Players who mined a minimum of 100 legendary ore during the event duration will stand a chance to win physical rewards.
Razer Huntsman V2 – Clicky Optical Switch Black Keyboard 1 Prize
Razer Kraken V3 Headphones 2 Prize
Event Duration:
Top 10 Event: 20 October – 3 December, 2 PM (GMT+8)
Physical Rewards Event: 6 Nov – 30 Nov, 2 PM (GMT+8)
Terms & Conditions:
• By participating in this event, you agree to the terms outlined below.
• Participants, also referred to as "players" or "citizens", provide consent for the organizing company to establish contact for marketing-related purposes.
• The event duration is as follows:
– Top 10 Event: 20 October – 3 December, 2 PM (GMT+8)
– Physical Rewards Event: 6 Nov – 30 Nov, 2 PM (GMT+8)
There may be a possible extension due to unforeseen circumstances.
• Physical prizes will be dispatched to winners after the event concludes.
• The campaign mechanics are subject to change at the organizer's discretion.
• Employees and relatives currently associated with MAXION Pte Ltd or GRAVITY are not eligible for this event.
• The organizing committee reserves the right to modify the terms and conditions without prior notice.
• All decisions by the organizing committee are final and binding."
---
🔔 Stay updated with our latest news, updates, and events at:
– Facebook: Ragnarok Online Landverse
– Discord: Ragnarok Landverse
– Twitter: ROLandverse
– Facebook Group: Ragnarok Landverse: Official Community
– Official News: Landverse News